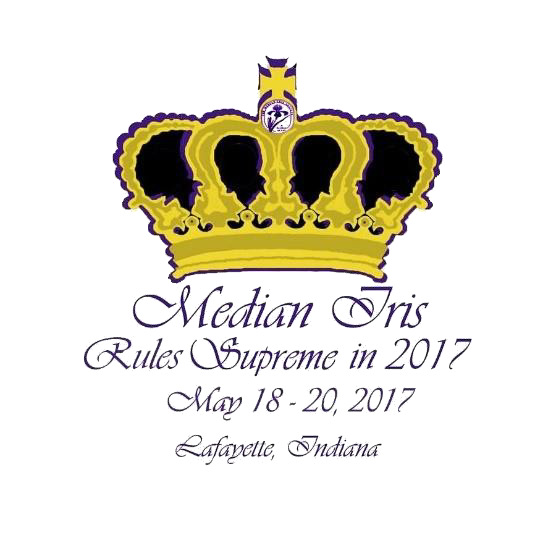 2017 MEDIAN IRIS MINI-CONVENTION - MEDIANS RULE SUPREME IN 2017
May 18-20, 2017
LAFAYETTE, INDIANA

On May 18-20, 2017, the Iris Growers of Eastern Indiana, Indiana Daylily and Iris Society, AIS Region 6 and the Median Iris Society will host a Median Iris Mini-Convention. Over three days, we will visit six gardens. The lovely Avon Gardens, which is a commercial garden, will be the lunch stop on one of the days. This garden covers over five acres of beautiful, mature display gardens, which are manicured and maintained to host special events, like weddings. The six iris gardens are all very conveniently located. The longest travel time is approximately one hour. The master planting is at Chuck and Barbara Bunnell's garden. Garden Judges' training will be held in the Bunnell garden. The guest irises in these Indiana gardens have been growing, multiplying, blooming and reblooming too, so the irises are almost ready for us!
More than 46 hybridizers have sent more than 278 varieties. Workers have planted over 800 rhizomes in the six gardens, four of which are in the Lafayette area. There may be the best collection of MTBs ever...54 cultivars from 21 hybridizers! This mini-convention will be anything but mini!
So what fun might you be in for at Median Iris Rules Supreme in 2017?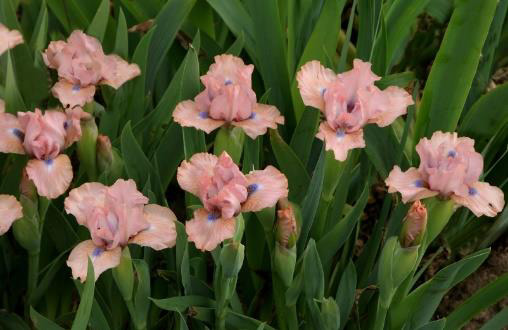 Thursday, May 18, starts at the registration desk, with a bag full of goodies and key information on the upcoming convention adventures. We may have a couple of optional tours to local research farms in the afternoon, but at 6 pm, the excitement really begins! At the opening hor d'oeuvres and greetings gathering, you can start to invest in your "Maybe Get Lucky" tickets. These tickets will be used for drawings throughout the weekend in which every purchase wins a prize. Our really lucky winners will receive 2017 Median introductions, while a second section of tickets will focus on bottles of wine. All prize wines will be delightful, but some bottles will be truly exceptional. You won't want to be shy in purchasing these tickets, as everyone will be a winner! More details and pictures here.
Friday, May 19, will be jam-packed with exploration and beauty, as we head out to three masterfully planted Median Iris Gardens. The lovely Avon Gardens will be our al fresco lunch stop. This commercial garden covers over five acres of beautiful, mature perennial display gardens, which are immaculately manicured and maintained to host special events, like weddings. After this day of immersion in median irises and beautiful settings, prepare for Friday Night at the Convention. Our hosts have arranged to feed your mind, soul and body on Friday night. More than just a delicious meal, we'll have all kinds of games and opportunities to secure new median irises! The fun will begin with a backyard barbeque, complete with hamburgers, brats, and delicious sides. Then come the games: Median Bingo, Median Trivia, Median Crossword Puzzles, and maybe even a fast-paced team game of Iris Chain Reaction. There will be a great photo booth for you and the friends you've made on the garden tour bus to snap silly pictures (or maybe you can even get a pic with your favorite hybridizer!). And to top it all off: a thrilling live auction of median iris! The convention committee is composing "Marvelous Median Bags" – mixes of median irises seen in the tour gardens – to be auctioned off after the dinner and games.
Saturday, May 20, it's back to the buses. We will explore the sensational master planting at the garden of Chuck and Barbara Bunnell, as well as two more fabulous garden stops. The Garden Judges' training will be held in the Bunnell's garden on Saturday morning and afternoon; you don't want to miss this special opportunity to learn amongst a master planting of medians! And of course, there will be more opportunities for voting your ballot for your favorite medians. Following our final garden tours, we will gather for a marvelous Closing Banquet. Memories and stories will be shared, awards will be given out, and we will all enjoy a presentation by our esteemed Keynote Speaker, Lynda Miller.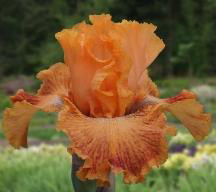 The Courtyard Marriott in Lafayette, IN will be the conference center for the MIS Convention. It's a brand-new venue with great amenities and warm hospitality, close to Purdue Research Park, Purdue University, shopping and entertainment. Each guest room features wireless internet, luxurious bedding, a large work desk, sitting area, 32-inch TV, weekday newspaper and individually controlled heating and air-conditioning. Other hotel amenities include a 24-hour food market and restaurant serving breakfast and light dinner.
Download your registration form in PDF format here, or as an MS Word document here.

Come see the Medians before the 2017 National AIS Convention in Iowa on May 23-27. It is about a 6-hour drive between the two cities, and with three days between the two events, there is just enough time to do a little sightseeing.
Previous Median Conventions:

Year
Convention Theme
Convention Host Location
2011
Median Heaven
Oklahoma City, OK
2007
Prairie Gold
Lincoln, NE
2004
Medians Galore
(or Medians and More)
Portland, OR
2001
Median Odyssey
Boston, MA
1996
Median Fix
Portland, OR
1993
Median Spree
Oklahoma City, OK
1989
Median Muster
Boston, MA
Not to be forgotten was the AIS Convention in Detroit, MI in 1997 which became a "median convention" with 'Vavoom' winning the Cook Cup and 'Bangles' winning the President's Cup.